Adam Julian, the Director of International Student and Scholar Services and Outreach in the Office of International Education and Development, is working with faculty and administrators from universities throughout Myanmar to develop the knowledge and skills necessary to manage an international relations office. The program is part of the training course "Connecting with the World" which is being implemented as part of the broader initiative Myanmar Higher Education Initiative by the Institute of International Education (IIE). During this program participants are given instruction on a variety of topics related to international education and assigned a mentor from a foreign university to receive personalized guidance, advice, and feedback over the course of 20 weeks. Adam Julian served as a mentor to Dr. Theingi Shwe, the Vice Rector of Hinthada University, and Dr. Khin Maung Soe, an Associate Professor from Magwe University, for the last two years. In June of 2016, Adam Julian traveled to Myanmar to help facilitate a professional development workshop for more than 50 participants from universities throughout Myanmar and visited Dr. Shwe and Dr. Soe at their institutions.

In June, Appalachian hosted a delegation from Myanmar including the Myanmar Ambassador to the United States, Ambassador U Aung Lynn, along with Dr. Mo Mo Thant from Yangon University of Distance Education and the First Secretary Mr. Swe Sett. During the visit the delegation met with representatives from Academic Affairs, OIED, the Department of History, and Educational Outreach and Summer Programs in order to share their experiences and expertise and exchange ideas. The delegation also met with representatives from the town of Boone including Mayor Rennie Brantz. During this meeting Mayor Brantz and Ambassador U Aung Lynn discussed ideas for future collaboration between Appalachian, Myanmar and the Town of Boone.

Myanmar is undergoing rapid changes throughout all spheres of society as the country transitions to a more open and democratic form of government following decades of military rule. The "Connecting with the World" course was designed to meet Myanmar's need for an increased capacity amongst faculty and staff to establish and run international relations offices. Since 2015 more than 150 faculty and staff from universities in Myanmar have graduated from the course and have gone on to play integral roles in their institutions' efforts to increase their global connections and international footprint. The participants have also gone on to establish the Myanmar International Higher Education Association in order to build on the connections they have established during the course and continue to contribute to the increasing globalization of higher education in Myanmar.
Picture left to right: First Secretary Mr. Swe Sett, Adam Julian, Ambassador U Aung Lynn, and Dr. Mo Mo Thant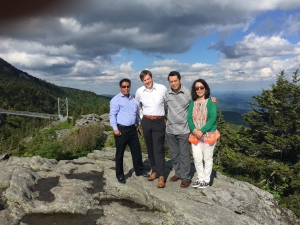 Tags: