CJ Maynard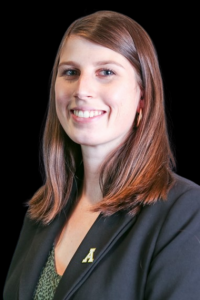 Bio:
CJ Maynard (she/her) is the Education Abroad Advisor. She works closely with students, advising them from start to finish regarding education abroad programs, manages outreach efforts, and supervises the Education Abroad Peer Advisor cohort. Additionally, CJ works on background program tasks like nominating students, signing forms, and transcript and credit processing.
CJ Maynard obtained a bachelor's degree in International Studies from North Carolina State University in 2018 and is currently enrolled in the Masters of Higher Education program here at Appalachian State. She studied abroad in Nagoya, Japan for eight months during her junior year on an exchange program. Prior to working in OIED, CJ worked in the Walker College of Business Brantley Risk & Insurance Center as a University Program Specialist.
CJ's favorite part of her job is assisting students in feeling confident about their education abroad experience and aiding them in finding the best program fit for their needs and wants. In her free time, CJ enjoys dancing, traveling, crocheting, yoga, and hanging out with her friends and family.
Contact me about:
General education abroad advising
Semester and academic year exchange programs
Education abroad transcript and credit processing
Education abroad presentations to student groups
Requesting Education Abroad Peer Advisors for outreach events