Mandela Washington Fellows Institute 2016 Fellows
Armelle Natacha Sènan Agbahoungba from Benin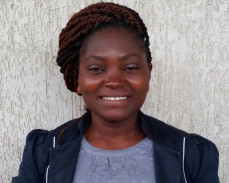 Natacha Agbahoungba has over four years of experience in various fields in community development, especially education. She currently works as a bilingual secretary, participating in field missions with an international NGO, The Hunger Project - Benin. After she had contact with malnutrition, she began designing recipes and products from the highly nutritious tree, moringa oleifera. Natacha's language and communication skills led her to co-found a nonprofit organization called Language Improvement Corner (LIC), where she volunteers in English-language acquisition through information and communication technologies. She also works for the development of leadership, communication, and literacy skills in teenagers through the Benin National Spelling Bee Project. Natacha holds a Master of Arts in English Language from the University of Abomey-Calavi. Upon completion of the Mandela Washington Fellowship, she plans to put more emphasis on malnutrition by designing a food supplement from moringa for malnourished children.
Chukwudi Precious Anyanaso from Nigeria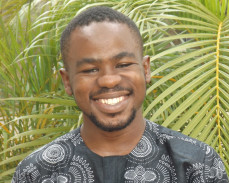 Chukwudi Anyanaso is the programs manager of the Smallholders Foundation. This rural-development organization promotes agricultural development and environmental management information for small rural farmers in Nigeria using educational radio programs and practical demonstrations. Chukwudi initiated the Y' Agripreneurs program through which he has trained 680 women on sustainable skills and knowledge in fish farming, fish-feed making as added value, and business skills. He has established six well-functioning women-owned community fish farms in Imo and Ebonyi States. Some 356 of the women he has trained have established their own fish businesses, become self-employed, and increased their household income by 60%. Chukwudi holds a BEng in Civil Engineering from the Federal University of Technology, Owerri. Upon completion of the Mandela Washington Fellowship, Chukwudi plans to expand his Y' Agripreneurs program to establish 43,000 women- and youth-run village agribusiness enterprises across Nigeria.
Frank Arnie Asseko from Gabon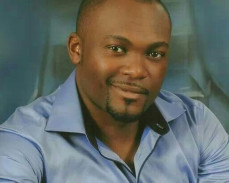 Frank Asseko has been working as a consultant and volunteer in various fields in the community development area. He is a specialist in policy advocacy and strategic partnership. Currently, Frank works a consultant for Forum for African Women Educationalists (FAWE) Gabon and another local NGO, where he focuses on advocacy projects and initiative programs. Frank holds a master's degree in International Relations with a focus on integrated studies from the United States International University of Africa in Nairobi, Kenya. He is focused on gender gaps within the education sector and their impact on Gabon's development. Upon completion of the Mandela Washington Fellowship, Frank will continue his work in gender parity with a focus on advocacy for girl and women's education in Gabon. He is currently working on a project on adolescent pregnancy affecting young girls' education in Gabon.
Kenneth Kengkeng Ati from Nigeria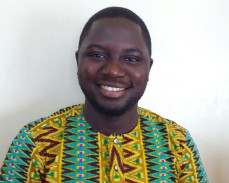 Kenneth Ati has more than five years' experience in various fields in the community development sector, particularly in youth empowerment and development. Currently, Kenneth is a director and senior partner at Think Benue Youth Initiative, where he focuses on initiating, designing, and implementing youth empowerment programs. He also volunteers in his community as a sanitary officer. He is a community mobiliser, a prolific writer on topical issues, has good communication skills, and is highly proficient in the use of social media. Kenneth holds a bachelor's degree in Statistics and Computer Science from the University of Agriculture, Makurdi. Upon completion of the Mandela Washington Fellowship, Kenneth plans to continue his work in youth empowerment with a focus on value reorientation, drug/substance abuse, and violence prevention.
Abiona Jean Bamigbade from Benin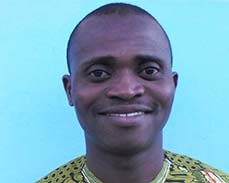 Abiona Jean Bamigbade has more than six years of experience in the community development sector, and over three years in promoting development through education, primarily girls' education. Jean is the founder and director of Education for Development, an NGO that pursues this work. Jean focuses on conducting girls' camps, advocating to re-enroll students (especially low-income students) in school, building latrines in middle schools, and educating rural communities about the danger of open air defecation. He also volunteers at a local library and speaks on the importance of education in rural schools. Jean holds a master's degree in Organizational Management. Upon completion of the Mandela Washington Fellowship, Jean plans to continue his current work with rural communities, to finalize the structure of his NGO, and to open up a residential, bilingual school to educate orphans, teen mothers, and the indigent.
Tinashe Basa from Zimbabwe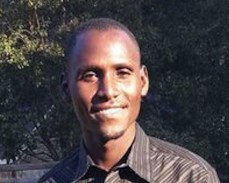 Tinashe Basa grew up in difficult circumstances, picking cotton at the age of 11, spraying pesticides in tobacco fields at 15, and struggling to find the money to stay in school. Nonetheless, at 17, although sleeping on the streets, he volunteered at a small orphanage that was just opening in Bulawayo since his life's dream was to provide others with a better childhood than what he'd had. Tinashe kept his focus and went on to co-found Zimkids Orphan Trust in 2009. Today, as director, he oversees recreational, vocational, educational, and feeding programs for 300 orphans at Zimkids' Centre, which includes a preschool, online tech center, library, sewing center, and garden. He has enabled some of Zimbabwe's poorest orphans to further their education, attain advanced certifications, and build independent lives. He will continue that work after the Fellowship. He holds advanced degrees from what some call the 'School of Hard Knocks'.
Aletha Chengo Chioma Blamo from Liberia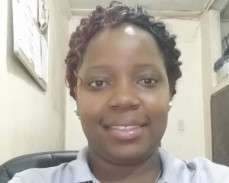 Aletha Chengo Chioma Blamo is a senior student studying Sociology with an emphasis on Public Administration at the African Methodists Episcopal University in Liberia. She also holds a diploma in Computer Operations and volunteers at the YMCA. Aletha is a member of the Monrovia Local Board and is also data entry clerk in the Monitoring and Evaluation department. She is also the currently elected parliamentarian for Monsterrado County at the Manor River Union Youth Parliament, Liberia Chapter. Aletha's work focuses on building youth life skills as the foundation of active and responsible global citizenship. She also cultivates leadership skills amongst the youth, educates them on civic responsibility, and exposes them to teamwork and peacebuilding activities. Upon her return from the Mandela Washington Fellowship, she will strongly engage her projects on YMCA Sports and slum development. Having made a pledge with Africa4Her, she will continue to speak out against gender-based violence.
Ramlat Matoiri Boina from Comoros
Ramlat Boina has over five years of experience in various fields in the community-development sector, in heath and education in particular. Currently, Ramlat is a coordinator for the Comorian Consumer Federation, working on all programs and development projects, and supporting volunteers and permanent members' activities. Ramlat is also general secretary of the national community health worker organization. Ramlat volunteers in the local community, raising awareness by training people on different subjects like the importance of breastfeeding babies and basic hygiene. Ramlat is also secretary of educational organization in the local community, spending time in the library helping students with their homework, especially in Biology and English, and hiking with students. Ramlat holds a diploma in Biology from the University of Comoros. After the Mandela Washington Fellowship, Ramlat will continue to reinforce and promote organization development.
Issoufa Bachir Bounou from Niger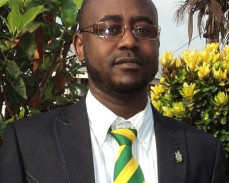 Issoufa Bachir Bounou has over four years' working experience in research institutes and NGOs. Currently, Issoufa is in charge of research development of the Committee for Supporting Local Development (CADEL). His areas of expertise are in the improvement of agricultural production through integrated soil-fertility management, and extension of agricultural technologies to the rural population. Through two projects that he coordinates at CADEL, Issoufa has enrolled many women in agribusiness to sustain their livelihoods and increase their resilience to climate change. Issoufa is an agro-environmental engineer from Abdou Moumouni University, Niger, and recently obtained a PhD in Soil Sciences from the Kwame Nkumah University of Science and Technology, Ghana. Upon completion the Mandela Washington Fellowship, Issoufa plans on intensifying his activities in research and transferring agricultural technologies to improve the food security of his community.
Arnold Makaya Djabosaki from DRC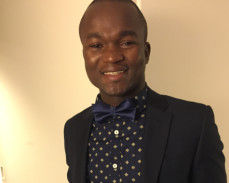 Arnold Djabosaki is an experienced telecommunication and computer engineer. He holds a degree in Electrical Engineering. He has attended many management and leadership training courses, which led to the development of the leadership and management skills he now uses in business and in his community. Arnold is the founder of Nesys, a company specializing in information and communication technology. His mission is to bring computer technology to schools in his community. He is building computer labs for schools and for those less fortunate; he has built a fully-fledged computer laboratory at his work place and given access to schools in the community. Upon returning home, he is going to focus on his project of building computers in the community by using graduates and the unemployed youth. The computers will be used in schools, businesses, government, and end-users. By so doing he will be contributing to the eradication of youth unemployment.
Fanaye Gebrehiwot Feleke from Ethiopia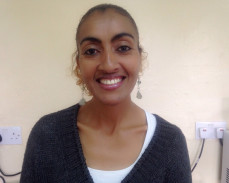 Fanaye Feleke has 10 years of experience in law and development with a focus on gender. Currently, Fanaye is partnerships manager for Girl Effect Ethiopia, which works to positively reframe the image of Ethiopian girls. She focuses on identifying, initiating, building, and managing partnerships. She is also a partner in Setaweet, a feminist establishment which aims to bring about a positive change in the social positioning of women. Setaweet activism takes the form of public forums, women-only study groups, media engagement, and 'Arif Wond', an exciting program working with men to challenge patriarchy. Setaweet also delivers high-quality, tailor-made training and research. Fanaye holds a master's degree in Law in Development from the University of Warwick, where she focused on gender and development. Upon completion of the Mandela Washington Fellowship, Fanaye intends to focus full time on her Setaweet work in feminist activism.
Francis Michael Haule from Tanzania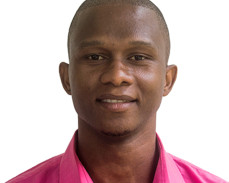 Francis Haule holds a bachelor's degree in Development Studies from Uganda Christian University and has six years of working experience. He is currently development officer at the Anglican Church of Zanzibar, where his major responsibilities include fundraising through project write-ups, promoting interfaith/conflict resolution, resource mobilization, youth entrepreneurship training, planning, and project supervision/evaluation. In previous roles, Francis has worked in advocacy interventions with marginalized groups such as sex workers, injected-drug user, gays/lesbians, women and the disabled. Francis has also volunteered in different community activities, including the construction of water tanks in villages in Zanzibar. Francis's skills include management, teamwork, organizing events, research, advocacy, and lobbying. On his return to Zanzibar after the Mandela Washington Fellowship, Francis is inspired to work on peacebuilding/conflict-resolution programs, to work with key populations to fight HIV/Aids, and to continue volunteering and working with marginalized groups such as women, the youth and the disabled.
Lynn-Joy Isaacs from South Africa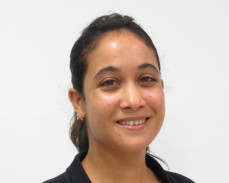 Lynn-Joy Isaacs has seven years of experience in community development, specifically in rural communities of the Western Cape, South Africa. She co-founded a nonprofit organization where she worked in the capacity of program and project manager. The organization's three divisions are early childhood development, developing leadership and life skills in youth through visual and performing arts, and parent development. She was intensely involved in developing and facilitating psychosocial group sessions using creative methodology. Lynn-Joy holds an honor's degree in Psychology from the University of the Western Cape and did her internship at a juvenile facility for troubled youth. Upon completion of the Mandela Washington Fellowship, Lynn-Joy will continue with her master's degree focusing specifically on children growing up in destructive environments with special focus on the family structure. She continues to assist the organization she co-founded and strives to provide psychosocial support to communities in the Western Cape.
Emilie Nangombe Iyambo from Namibia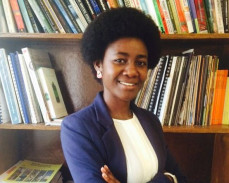 Emilie Iyambo started her career as an environmental officer at Namdeb Diamond Corporation in 2013. It is there that she gained extensive knowledge and experience in, but not limited to, natural resource use monitoring, drawing up of operational policies and procedures to abide by legal and other requirements, and reporting to government and various stakeholders. Emilie embraces her current role as a "sustainabologist" at Namdeb. Her core responsibilities include investigating people and behavior, focusing on building awareness, creating change agents, buy-in, and competency building on sustainability. Through specialized training, establishing appropriate partnerships and engaging with key stakeholders, culture change is initiated by involving employees and stakeholders. Emilie teaches English at a local distance-learning college, actively tutors and mentors learners from the local high school, and supports learners from her home village with extra learning materials. Upon returning to Namibia, Emilie hopes to fast-track her initiatives through a global perspective.
Maximina Chipo Jokonya from Zimbabwe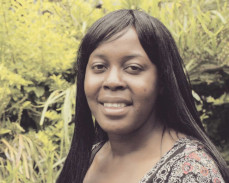 Maximina Jokoya has over eight years' experience in the field of HIV/Aids. She is currently working for Africaid as a Zvandiri mentor implementing the DREAMS project in Mutare District, Zimbabwe. Maximina was born with HIV, which is what has inspired her to work with adolescents and young women who are infected with and affected by HIV. She joined the University of Zimbabwe – University of California San Francisco (UZ-UCSF) collaborative research program in 2007 as a community advisory board member, community delegate member to the Global Fund, and Women Deliver young leader, amongst many other roles. Upon completion of the Mandela Washington Fellowship, Maximina plans to continue to work in the field of HIV/Aids, improving on innovative ideas, strengthening community systems, and developing research gaps. She holds a diploma in HIV/Aids counseling care and support, and is currently pursuing a degree in Psychology with Africa University.
Chapwa Kasoma from Zambia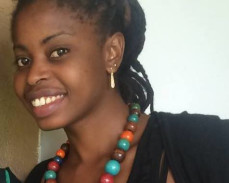 Chapwa Kasoma, a female crop scientist with five years' experience in plant agronomy and breeding, is a field production supervisor for DuPont Pioneer Zambia Ltd. Previously, Kasoma worked as a research associate for Zambia Seed Company (ZAMSEED) where she addressed improvements to Zambia's staple crop, maize, and other cereals. She has also been actively involved in her community, where she mentors disadvantaged students in rural Zambia who aspire to pursue science. Her work is available at: https://www.youtube.com/watch?v=qu_5eIWwEYY. Academically, Kasoma holds a Bachelor of Science in Molecular Biology and Genetics and a Master of Science in Plant Breeding and Seed Systems, both from the University of Zambia. As a rising leader in agriculture, the Mandela Washington Fellowship is an opportunity for her to hone her leadership skills, increase her effectiveness in her work and expand her community activities to include the reintegration of youth ex-prisoners into productive lives.
Abdoul Rafiou Lassissi from Togo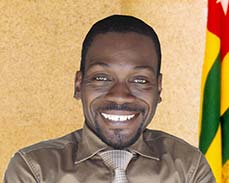 Abdoul Lassissi has years of experience in teaching. He knows how to listen to people and address their needs in English, and in their personal and professional growth. He became a Toastmaster to improve his communication and leadership skills so that he is better able to help people. Abdoul was involved with the Togolese Federation of Disabled Associations in order to discover more about the reality of challenged persons. He has worked with many other local associations for the rights of disabled people. Based in Togo, Abdoul has used internet technology to link his association and disabled craftspeople with international partners. With his contacts, Abdoul is able to cares for physically challenged persons and is ready to implement whatever he learns upon his completion of the Mandela Washington Fellowship.
Lerato Julia Lesoetsa from Lesotho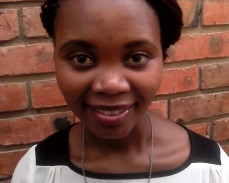 Lerato Lesoetsa has four years' experience in community building, focused mainly on poverty reduction. Lerato is a co-founder of Friends of the Environment, based in Maseru, Lesotho, where she focuses on linking climate-change and poverty-reduction targets by adopting the use of appropriate and ecologically viable technologies. She has worked as an advisor for local smallholder farmers in the production of high-value crops through conservation agriculture. She is also a volunteer for the United Nations Development Program, assisting local authorities to manage a donor grant in order to implement development projects in various sectors. Lerato holds a bachelor's degree in Environmental Sciences from the National University of Lesotho. After completing the Mandela Washington Fellowship, Lerato plans to continue her work in environmental protection, particularly involving more young scientists in the development of natural products to be used in agriculture. She also plans to establish environmental awareness programs in her community.
Basil Nhlahla Mabasa from South Africa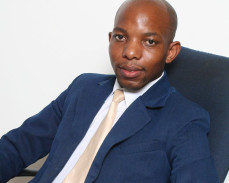 Basil Mabasa is a young philanthropist with over 10 years' experience in community development and entrepreneurship. Basil is the chairman and founder of Xisasi Cancer Foundation and the Xisasi Group of Companies. The cancer foundation provides cancer awareness programs focusing on education, early detection, and victim and survivor support in rural parts of Limpopo, South Africa. Basil started the foundation after losing his mom to breast cancer in 2009 and named the foundation after her. Basil is also a founder member at Hlanganani FM, a newly-formed community radio station in Bungeni, Limpopo, and sits on the boards of various NGOs that promote active citizenry. After completing the Mandela Washington Fellowship, Basil plans to intensify the fight against cancer by having a mobile cancer clinic that will be used in rural areas. He also wants to form partnerships with national cancer foundations so as to get broader support from established organizations.
Penelope Machipi from Zambia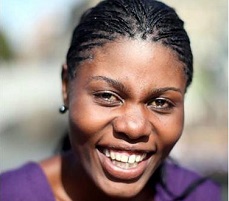 Penelope Machipi has over eight years of experience of fighting for social change in her community. Currently, Penelope is a film director for Samfya Film Makers, the first women's filmmaking collective in rural Zambia, where she passionately uses film to campaign against early marriage and gender-based violence. She also volunteers as an information and communication technology (ICT) teacher at a local school, where she promotes the use of IT, especially among young girls. Penelope has a diploma in Education from Nkana College of Education, where she focused on using ICT to advance access to education in Zambia's rural areas. Upon completion of the Mandela Washington Fellowship, Penelope plans to start a new foundation that will specifically target the use of ICT and filmmaking to advance educational training in rural schools through providing infrastructure as well as support to teachers.
Birabi Francis Manana from Uganda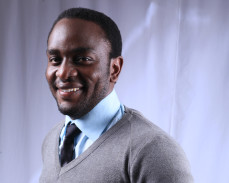 In 2009, Manana Francis Birabi founded Milege, an organization involved in the preservation and promotion of cultural heritage through the arts, offering entertainment-related services and running projects geared towards discovering, promoting, and empowering unique non-conventional artists. In addition to heading Milege's management team, Birabi runs a world music festival that hosts regional artists in the fields of music, dance, fashion, visual arts, poetry, and storytelling. The Milege festival is held in a rainforest on the shores of Lake Victoria. Manana has also worked as a fitness coach with Kampala Serena Hotel. Manana holds a Bachelor of Sports Science degree and is currently doing a master's degree in Business Administration. After the Mandela Washington Fellowship, he plans to initiate an anti-littering drive championed by artists, to further grow the Milege world music festival, and to set up an artist's resource center to support young artists.
Loretta Oneke Mpame Ntui from Cameroon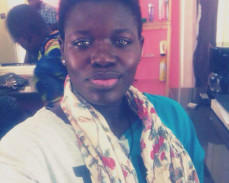 Lorretta Ntui has two years of working experience in community development, peacebuilding, training, organizing events, and project management. She is currently the president of the Global Youths Movement, Cameroon. She is focused on empowering young men and women on leadership, and the education and sensitization of her community on deadly diseases like HIV/Aids and malaria. Lorretta also advocates for the right to education of the less privileged. She volunteers at an orphanage in her community where she teaches art and morals. Upon completion of the Mandela Fellowship, she plans to share her experience with friends, family, and colleagues. Lorretta plans to create a bigger platform where young men and women in her country and the world at large, can connect and learn, share their skills, work with others, and also assist and advocate for the educational rights of the less privileged, human rights, women's rights, and equal opportunities.
Bernard Alex Otieno from Tanzania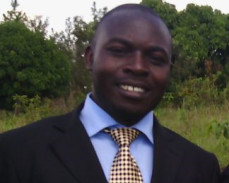 Bernard Otieno is an Advocate of the High Court of Tanzania. He has over seven years' working experience in legal aid provision, law practice, advocacy, monitoring and evaluation, training and facilitation, and leadership and management of NGOs. Currently, Bernard is an executive director of Himiza Social Justice, where he focuses on legal and policy advocacy, capacity building, and community empowerment in the Geita region. He is also a managing counsel of Rafiki Attorneys & Co Advocates, where he practices law, including civil and criminal litigations, and conducts training and supervision of associates. Bernard holds a postgraduate diploma in Legal Practice from the Law School of Tanzania and a Bachelor of Laws Degree from the University of Iringa. After completing the Fellowship, Bernard plans to continue his work in legal and policy advocacy with a focus on providing legal aid to the needy, law practice, and community empowerment on social justice.
Linda Brenda Sichali from Malawi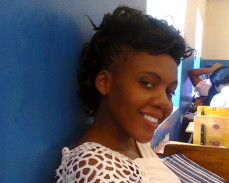 Linda Sichali has more than four years' experience as a volunteer in community work in Malawi. She is a founding member of Girls Platform for Social Action (GIPSA), an organization that promotes girl-child education in rural areas. Linda serves as an advocate against cultural practices that promote early marriages among girls. Linda sees herself as a key player in mobilizing resources and efforts towards girls' and women's empowerment, particularly in rural areas. After the Mandela Washington Fellowship, Linda plans to continue her work to empower girls and young women. She dreams of setting up a resource center in her rural home town to provide young women and girls with academic and career guidance, as well as entrepreneurship and agribusiness skills.
Faith Tanui from Kenya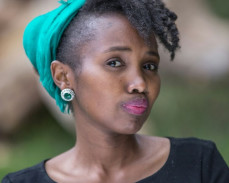 Faith Tanui is passionate about community development and has three years' experience in developing mentoring programs to improve the circumstances of girls and boys in her community. She founded PendoAfrica, a charity organization that empowers boys and girls aged 10 to 24 to achieve personal, spiritual, academic, social, and economic transformational growth. She is responsible for having managed campaigns and run online activities in support of the girl-child, and for providing sanitary pads to girls in marginalized areas. Faith holds a bachelor's degree in Computer Science from Dickinson State University, and a diploma in Information Technology from Jomo Kenyatta University. Upon completion of the fellowship, Faith plans to use the knowledge gained to improve PendoAfrica and to continue her work in mentorship and policy facilitation. She will focus on developing long-term strategic activities and solutions in an all-round empowerment program for both boys and girls across Kenya.