Monday - Nov 14
Nationally Competitive Scholarship Information Table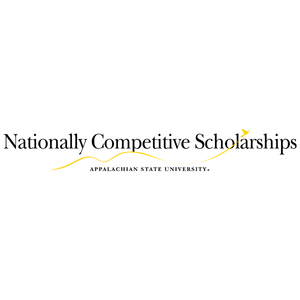 There are many opportunities, scholarships, fellowships, and internships that NCS promotes and will support students through their application process. This event is to raise awareness about our office, what opportunities we provide and support, and how students can get in touch with us.
Mon: 9:00-11:00 and Fri: 10:00-12:00
Hosted by: Nationally Competitive Scholarships
Instagram @appstate_ncs
website ncs.appstate.edu
Fulbright IEW Group Presentation Session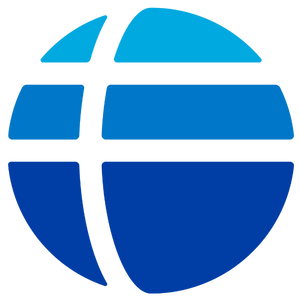 These group presentation sessions from the Fulbright program will provide general information about the program as a whole and is a great overview for students who might be interested in applying. Once the presentation is over, we are put into breakout rooms with the students and FPA's from the same campus. This will give me a chance to directly speak with the students from App who have an interest in this program.
2:00-3:00
Students can register through this link.
Hosted by: Nationally Competitive Scholarships
Instagram: @appstate_ncs
website ncs.appstate.edu
A Workshop on Creating A Coping Skills Toolkit
During this event, our counselors will bring various fun and useful self care tools and resources. Participants will build their own personal coping skills toolkit for future use to help cope with stress and practice self care. Our counselors will also provide some guidance around using these coping skill tools along with a flyer and additional resources.
3.30 pm - 5.00 pm
PSU 211 - Nolichucky Room (near where McCalister's used to be)
Hosted by: Counseling Center in collaboration with OIED
Global Perspectives Panel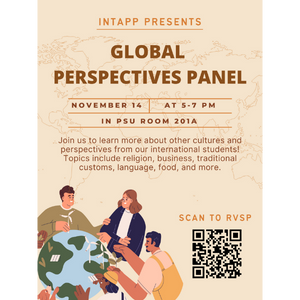 Global Perspective Panel is an event hosted by the Business Committee of INTAPP, which consists of a panel of eight international students who answer questions posed by domestic students about specific aspects of their culture. Oftentimes the topics of politics, religion, business, economy, traditional customs, language, and food are discussed. This event raises awareness about international affairs and differing cultural perspectives.
5pm-7pm
PSU 201A Price Lake Room
Hosted by: INTAPP
Exploring Japanese University Towns
The Japanese Culture Club will be giving a Google Slide presentation during their meeting on November 14, 2022 from 5:15-6:15pm in Room 155 of Plemmons Student Union covering the culture of various university towns in Japan. The goal of this presentation is to cultivate students' interest in studying abroad in these towns by exhibiting all of the unique opportunities each one has to offer. We will cover around six towns, each of which will be presented by one of our seven executive members during the meeting.
Start Time: 5:15pm; End Time: 6:15pm
PSU 155
Hosted by: Japanese Culture Club
Language Out Loud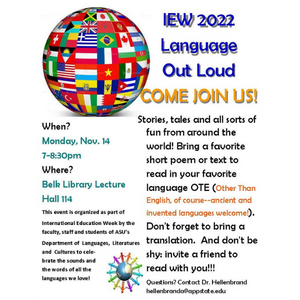 This is a time to share stories, tales and all sorts of fun from around the world! Participants are asked to bring a favorite short poem or text to read in their favorite language OTE (Other Than English, of course!)-- with a translation, too. Participants are welcome to bring a friend to read with them. Or you can just come listen and marvel at the variety of languages we have on our campus!
7-8:30pm
Belk Library Lecture Hall LIB 114
Hosted by: Department of Languages, Literatures, and Cultures