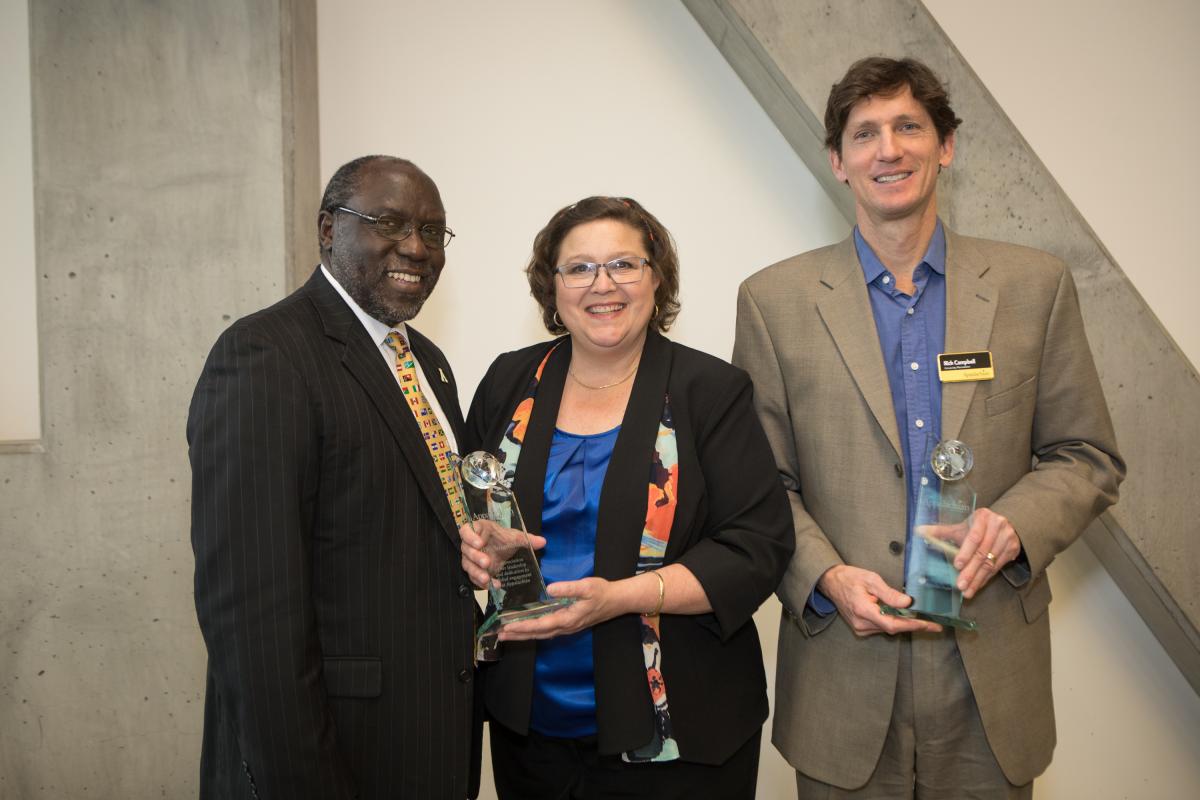 Dr. Jesse Lutabinga, Associate Vice Chancellor for International Education and Devlopment with Dr. Suzi Mills and Mr. Rich Campbell.
Mr. Richard Campbell, Associate Director of Outdoor Programs and Lecturer in the Department of Recreation Management and Physical Education, and Dr. Susan Mills, Professor and Director of Music Education in the Hayes School of Music, were recognized for their years of dedication and leadership in support of the annual Appalachian Global Symposium during the Global Leadership Awards Luncheon on Wednesday, November 14th. Campbell and Mills have been instrumental to the symposium's development and success since its inception in 2012.
Dr. Jesse Lutabingwa, Associate Vice Chancellor for International Education and Development at Appalachian, praised their leadership and said "Organizing this important event to celebrate and recognize the global activities and achievements of our colleagues here at Appalachian is a monumental undertaking. I am very grateful and appreciative of the time and energy that Rich and Suzi have given toward this endeavor over the last several years. Through their leadership and expertise both the Global Symposium and Global Leadership Awards have become institutionalized at Appalachian and play a prominent role in our global activities."
The Appalachian Global Symposium is an event that takes place each year during International Education Week. The event is designed to showcase the global activities of faculty, staff, and students at Appalachian by providing a professional platform for them to share their work, experiences and contributions to global learning at Appalachian. This year's symposium was attended by more than 200 people and featured 23 different sessions from 39 faculty, staff, and student presenters.
The symposium is organized by a committee with representatives from various colleges and organizations throughout campus. This year's committee includes:
Ms. Joanie Andruss - Nationally Competitive Scholarships
Dr. Becki Battista - Office of Student Research
Mr. Rich Campbell - Outdoor Programs
Mrs. Meredith Church Pipes - Walker College of Business
Mr. Adam Julian - Office of International Education and Development
Dr. Katherine Ledford - Appalachian Studies
Mrs. Karen Marshall - Office of International Education and Development
Mr. Alex McAllister - Belk Library and Information Commons
Mrs. Terri Reddick - Camps and Conference Services
Dr. Robert Sanders - Cratis D. Williams School of Graduate Studies
Dr. Iryna Sharaievskaya - Beaver College of Health Sciences
Dr. Laurie Semmes - Hayes School of Music
Dr. Paul Wallace - Reich College of Education
Of the committee's work, Adam Julian, the Director of International Student and Scholar Services and Outreach, said "We are truly appreciative of the time, energy, and expertise that the committee members contributed to this year's symposium. The work of the committee is a year-round endeavor, and we owe its continued success to their dedication and support throughout the year."
Next year's Appalachian Global Symposium will take place on Wednesday, November 13th. A call for proposals will be issued during the spring 2019 semester. All faculty, staff, and students are encouraged to submit a proposal to share their global learning experiences with the Appalachian community.