by Mallory Sadler, 11/6/19
On the afternoon of Saturday, October 12, 2019, bridges were created between countries on the campus of Appalachian State University, as Fulbright TEA participants and Upward Bound students exchanged culture and ideas in a series of fun activities.
The Fulbright Teaching Excellence and Achievement Program (Fulbright TEA) is sponsored by the U.S. Department of State with funding provided by the U.S. Government and administered by IREX. It is governed by policies established by the Fulbright Foreign Scholarship Board. Fulbright TEA brings international teachers to the United States for a six-week program that offers academic seminars for professional development at a host university. Participants observe classrooms and share their expertise with teachers and students at the host university and at local secondary schools.
Upward Bound is a federally funded college preparatory program that helps high school students develop skills and motivation they need to succeed in high school. Also, Upward Bound gives students the necessary tools to enter and be successful in college. To achieve these goals, Upward Bound provides academic support, social and cultural enrichment, and opportunities for personal growth. All services are free of cost.
Fulbright TEA participants planned small breakout sessions for the Upward Bound students, engaging the students in cultural awareness and team building through fun activities like building bridges with spaghetti, playing heads up, and a race to complete together puzzles of flags.
Dr. Maria Anastasiou, project director for the Fulbright TEA Program at Appalachian, noted "we hope that the collaboration between Upward Bound and the Fulbright TEA participants helps students learn about other countries and inspires them to think globally in their everyday lives and their goals. We also hope our teachers are inspired to consider developing programs like Upward Bound in their home countries."
When asked about their experiences, Upward Bound students reported positive outcomes, including:
Alan: "I really appreciate the influence you guys have given me and what I plan to do with all the information in the future. You guys really gave me a different perspective of what it is like for teachers like you guys. Thank you for this amazing experience."

Celeste: "I learned a lot more about the world and it was a lovely experience, we'll miss you!"
Photos from the event: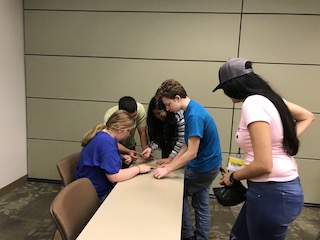 Upward Bound students complete a puzzle of the Colombian flag, as supervised by Fulbright TEA participant Pamela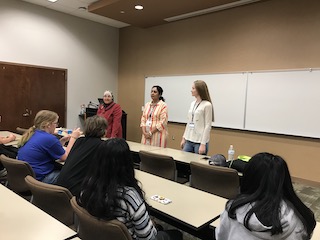 From left: Fulbright TEA participants Majedah, Sudha, and Natallia present to Upward Bound students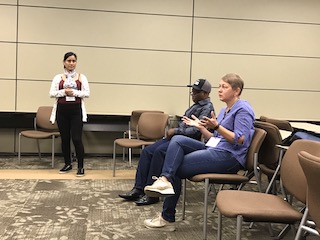 From Left: Fulbright TEA participants Gloria, Robert, and Egle explain a game to Upward Bound students.
Lead Photo: Upward Bound students and Fulbright TEA participants exchange ideas
Tags: