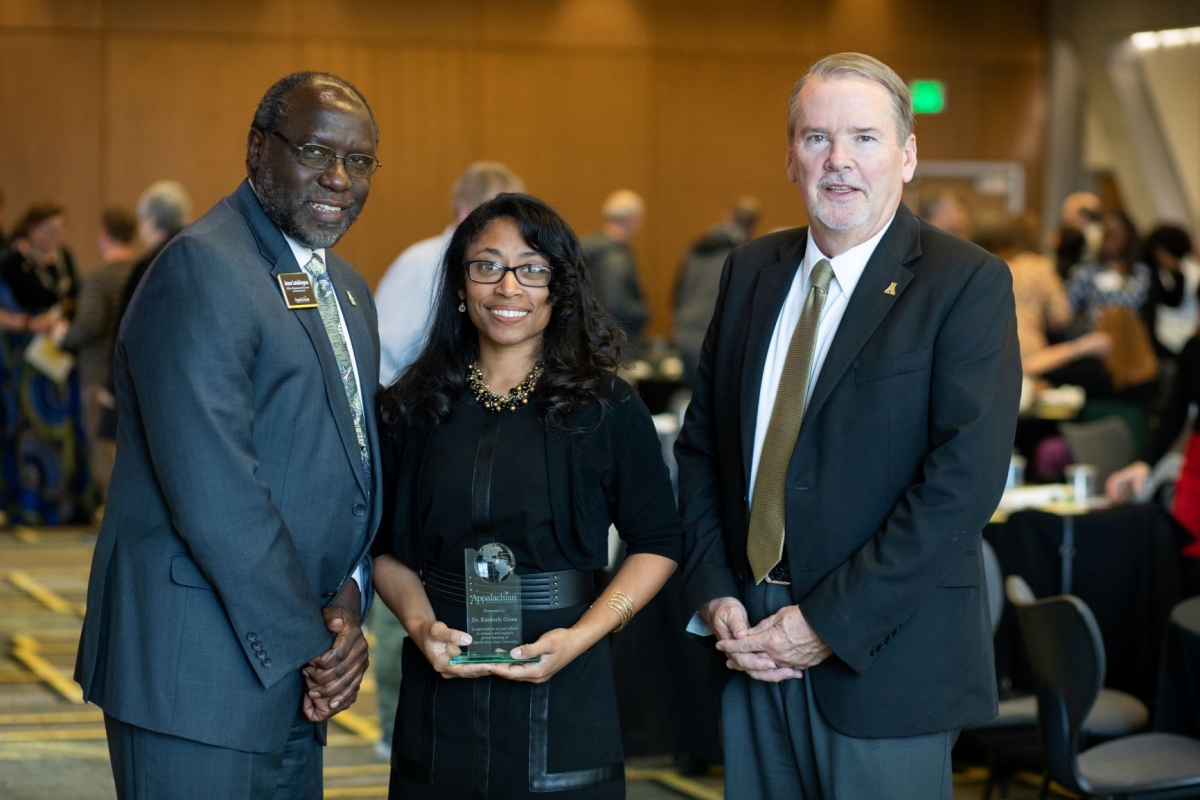 Pictured are Dr. Jesse Lutabinga, Associate Vice Chancellor for International Education and Development, Dr. Kimberly Green, and
Dr. Kimberly Green was honored as the recipient of the 2019 Appalachian Global Engagement Award on Wednesday, November 20th during the Global Leadership Awards Luncheon that took place during a campus-wide celebration of International Education Week.
The award was presented by Dr. Randy Edwards, Vice Chancellor for University Advancement in recognition of Green's sustained contributions and support for advancing global learning at Appalachian. Dr. Green is a native of Winston-Salem, NC and a two-time graduate of Appalachian State University. She is currently an Assistant Professor in Communication Sciences and Disorders at Western Kentucky University's College of Health and Human Services. At Western Kentucky University, Dr. Green has taught 14 international courses to date including courses in Belgium, France, and the United Kingdom.
Her commitment to higher education and global learning extends to supporting her alma mater as well. She is a member of the Foundation Board of Directors for Appalachian State University where she chairs the Academics and Scholarships committee as well as the Governance committee. She is the co-founder of the Green/Reaves Scholarship for Global Experiences designed to support and promote global experiences for students from underrepresented backgrounds at Appalachian.
The Global Engagement Award is designed to recognize individuals whose support of global engagement has resulted in more global learning opportunities for Appalachian students. According to Dr. Jesse Lutabingwa, Associate Vice Chancellor for International Education and Development: "There are many individuals outside the University who have made significant contributions to support Appalachian's global engagement efforts.Dr. Green is one of the many deserving people and we are pleased to recognize her efforts."
Tags: