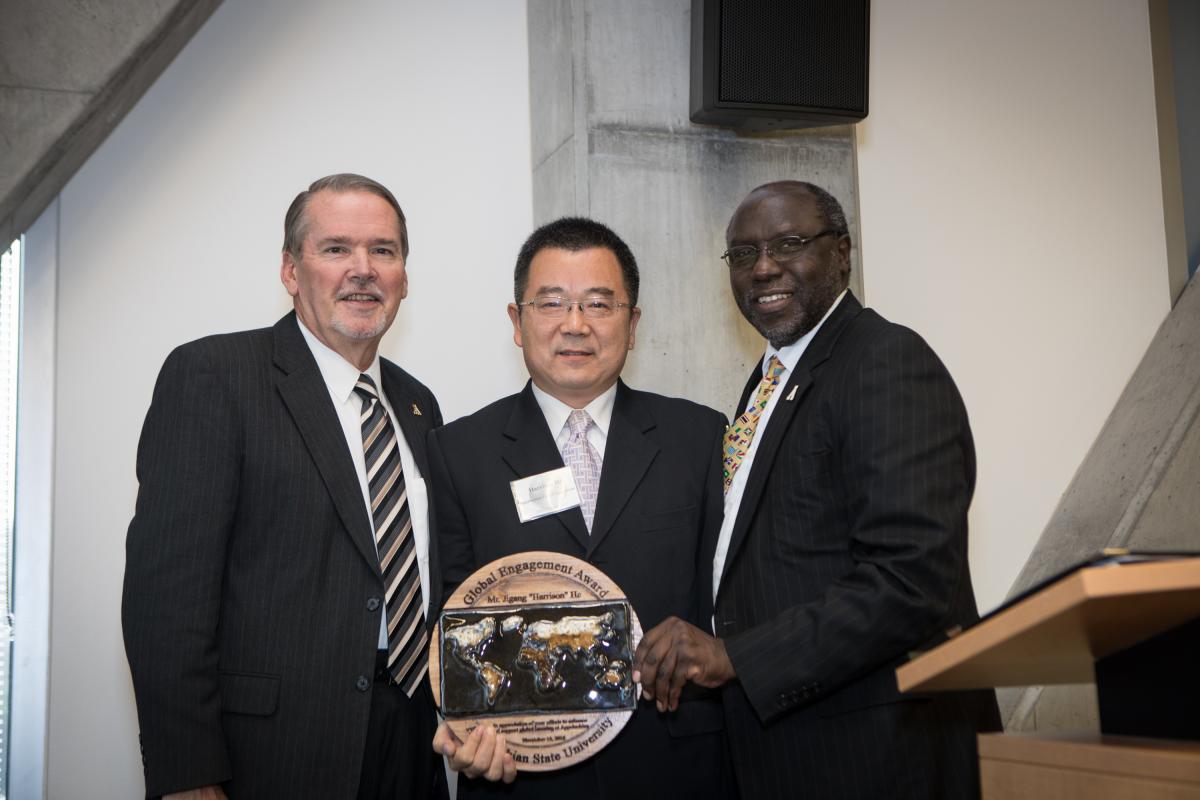 Mr. Jigang "Harrison" He was honored as the recipient of the inaugural Appalachian Global Engagement Award on Wednesday, November 14th during the Global Leadership Awards Luncheon that took place during a campus-wide celebration of International Education Week.
The award was presented by Dr. Randy Edwards, Vice Chancellor for University Advancement in recognition of Mr. He's sustained contributions and support for advancing global learning at Appalachian. Through his long-standing partnership with the Walker College of Business and his generous support of Appalachian, Mr. He has provided global learning opportunities for countless students over the years. Dr. Edwards noted" "Harrison has been a great supporter and friend of Appalachian State University for many years. He has hired a number of students for internships with his companies in China and has hosted many dinners in China for delegations from Appalachian. An impressive indication of his partnership with Appalachian State and the Walker College is that he sent his daughter to Appalachian, where she earned a bachelor's degree and master's degree in Accounting."
The Global Engagement Award is designed to recognize individuals whose support of global engagement has resulted in more global learning opportunities for Appalachian students. According to Dr. Jesse Lutabingwa, Associate Vice Chancellor for International Education and Development: "There are many individuals outside the University who have made significant contributions to support Appalachian's global engagement efforts. In the past, we have not really paid attention to appropriately recognize these individuals. Going forward, we will annually recognize at least one such individual during our Annual Global Symposium Luncheon. I am happy that this year, we recognized Mr. Jigang "Harrison" He as the first recipient of the Global Engagement Award.