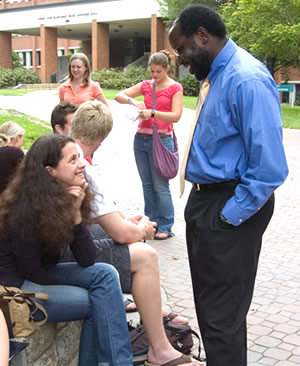 All Appalachian State University employees traveling abroad on official university-related business must enroll in the International Business Travel Insurance plan. This insurance cannot be used for Fulbright, Off Campus Scholarly Assignments, or for personal travel.
If you are a student, this is not the insurance you need.
Here's how to enroll:
1. Complete a University Travel Authorization found under the travel forms section on the Controller's Office website. Get all necessary signatures (See FAQ for further instructions on filling out form).
2. Complete and submit the online International Business Travel Insurance Form.
3. Submit the Travel Authorization form to OIED either in person or via campus mail: International Business Travel Insurance, OIED, PSU Suite 321 at least 2 weeks before travel. If you submit your Travel Authorization by email, please send it to the international business travel email. If you are covering any dependants or personal days, you will receive an email with an online payment portal to submit electronic payment.
4. You must submit a copy of your valid passport before your insurance will be processed. DUE TO SECURITY PROTOCOL YOU MUST SUBMIT YOUR PASSPORT THROUGH LIQUID FILES OR BRING A PHYSICAL COPY TO OIED. Please visit fileshare.appstate.edu and upload and share with ibtinsurance@appstate.edu. If you have any questions on this process, please contact OIED at 828-262-2046.
Other Resources
*This is not for travel insurance (i.e. insuring your flight) - it is only for medical/repatriation purposes.*
Disclaimer: Any Appalachian State University employee who travels abroad without having completed both the Travel Authorization and the International Travel Insurance forms personally assumes full responsibility for health and safety, and such failure to comply with procedure may result in denial of Travel Reimbursement expenses.