Project summary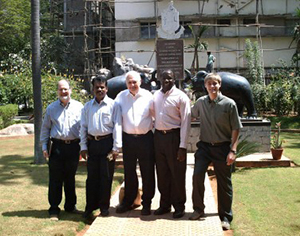 The Bringing Offshore Outsourcing Management to the Carolinas (BOOM-Carolinas) project is Appalachian State University and Asheville-Bucombe Technical College's (ABTech) response to the challenges created by offshore outsourcing. Offshore outsourcing of business services, both business processing and information technology (IT) has raised new challenges for the Carolina businesses and Appalachian. It has made it necessary for the university to integrate business processes and IT outsourcing in its business educational programs. It has also raised the need for Appalachian to develop students' understanding of India, a destination of most of global outsourcing services, as well as the need to train local businesses in taking advantage of opportunities created by offshore outsourcing, while at the same time combating the threats of this phenomenon.
The three objectives of the BOOM-Carolinas project are to: (1) enrich the international dimension of the educational experience of undergraduate education at Appalachian in several areas: computer information systems, entrepreneurship, accounting and health care management; (2) enrich the competencies of Appalachian business faculty and ABTech-Small Business Center and Incubator (ABTech-SBCI) staff related to global outsourcing, with specific reference to India; and (3) increase knowledge and understanding of global outsourcing of Western North Carolina/South Carolina regional businesses. These objectives are achieved through a set of seven activities grouped into three main categories: (1) student and curriculum development, (2) faculty development, and (3) business outreach.
Note: All University Export Controls must be followed.
More Information:
Thumbnail: