Project summary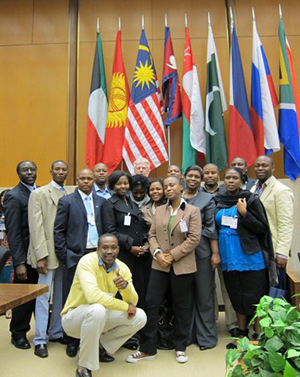 Appalachian State University, in collaboration with the Africa Governance Transformation, has received a grant to implement a two-year Legislative Fellows Program (LFP) for South Africans. LFP is funded by the Bureau of Educational and Cultural Affairs of the U.S. Department of State and implemented by Appalachian State University in the U.S. and Africa Governance Transformation in South Africa.
The goals of LFP are to strengthen South Africa's democracy, assist in the empowerment of mid-level government professionals, and enhance technical skills and institution-building capacity for South African legislative professionals. The target groups are the National Parliament and the KwaZulu-Natal Provincial Parliament, as well as local government professionals in the KwaZulu-Natal Province in South Africa.
LFP will be implemented in three phases:
Phase I
Phase I will consist of pre-departure orientation and seminars in South Africa. Pre-departure seminar will include such topics as the legislative process in the U.S., the legislator's role in drafting legislation; role of committees in the federal and state legislative processes; coalition building and sponsorship of legislation; the role of a lobbyist in the legislative process, and how to communicate effectively with the constituencies. Seminar topics for local government participants will focus on the American system of governance, governance and democratic institutions in the U.S., the America political process; local governments in the U.S., and the policy making process in the U.S.
Phase II
In Phase II, 30 South Africans will travel to the U.S. to participate in a four-week individualized internship program at the U.S. Congress, North Carolina General Assembly, and various county and municipal governments in North Carolina. Participants will be placed in various legislative and governmental units that correspond with the size of the governmental units from where they come in South Africa. At the internship site, each participant will be supervised by a mentor who will serve as a coach. While in the U.S., the South Africans will also participate in various enrichment activities designed to enhance their understanding of the culture of civic engagement in the U.S. and to facilitate the development of long-term professional relationships with their American counterparts. Each participant will be expected to develop an action plan for implementation upon return to South Africa.
Participants in the LFP will:
Be between 25 to 35 years old;
Have at least 2 to 5 years of professional experience working at local government, provincial parliament, or national parliament;
Have a university degree;
Speak and write English fluently;
Possess leadership abilities and a commitment to participation in the political or policy-making processes through involvement in civic activities, citizen advocacy groups, political campaigns, political parties, or election related activities;
Be South African citizens.
Phase III
Phase III of LFP will consist of follow-on activities which will take place in South Africa, as well as alumni outreach and engagement activities. During this phase, a group of 10 U.S. professionals/mentors will travel to South Africa for one-on-one consultation and assessment of the implementation of action plans developed in Phase II.
If you are interested in participating, please refer to the documents below:
Note: All University Export Controls must be followed.
Thumbnail: