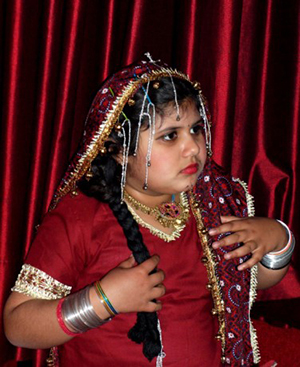 Appalachian State University has received a second grant totaling $297,529 from the Public Affairs Section of the U.S. Embassy in Islamabad, Pakistan, to continue an exchange project between public schools in Watauga County and Taxila, Pakistan.
The project will be directed by Dr. Jesse Lutabingwa, associate vice chancellor for international education and development, and Dr. Arshad Bashir, a Fulbright doctoral graduate from the educational leadership program in Appalachian's Reich College of Education. A native of Pakistan, Bashir previously taught in Taxila and is now assistant director of the Higher Education Commission of Pakistan.
The project continues an effort begun in 2012 in which 12 students and eight educators participated in a three-week exchange program in Watauga County schools. The exchange grew from an initial online collaborative program between Heavy Industries Taxila Educational City (HITEC) schools in Taxila, Pakistan and Watauga County that Bashir started in 2010.
Appalachian is the only U.S. institution to receive funding from the U.S. Embassy in Islamabad for this type of cultural exchange, according to Lutabingwa.
Twenty-four students and educators from HITEC schools will come to Watauga County beginning in October for a three-week exchange program at Watauga High School, Hardin Park Elementary School or Green Valley Elementary School. They will visit Washington, D.C., at the end of the visit.
This year's program will focus on girls' education from the Federally Administered Tribal Areas (FATA) and Balochistan on the Pakistan-Afghanistan border. The girls from FATA and Balochistan come to HITEC with less education than their counterparts. They live in warring regions and don't have many opportunities for education and personal growth. Six girls and six boys who are FATA/Balochi students in the HITEC group will participate in the exchange.
While at Appalachian, the Pakistani teachers will receive support on ways to use technology in their classrooms. In the spring of 2014, a group of 12 educators from Watauga County will visit Pakistan and participate in a one-week exchange visit at HITEC.
"Although our technology-based collaboration has created a visible impact on educators and students in both the U.S. and Pakistan, there is no comparison to the face-to-face interaction or to first-hand experience of visiting each other's countries," said Lutabingwa.
"None of the teachers and students in Pakistan who are engaged in this year's online collaboration has visited United States, and similarly, their partner U.S. students and teachers have never had the opportunity to visit Pakistan. Exchange visits will, therefore, strengthen the developing relationship between educational institutions and the communities in both countries," said Lutabingwa.
Jesse Stollings, a teacher at Watauga High School, participated in last year's seven-day exchange in Pakistan. "The people in Pakistan were some of the nicest I have ever met," he said. "I feel like my family has grown 10 times in size. They made me realize that I still have so much to learn about this country and the people."
Stollings spoke of the need to remove cultural barriers through a better understanding of different culture. "We, as Americans, also have so much to learn. When we break down the international cultural barriers and see the things we all have in common, and then we start to realize how this can all change," he said.
"Having a collaborative partnership with the Pakistani school at HITEC has given our students and teachers an international experience that continues to grow. Our school community formed relationships that continue online today," Hardin Park Elementary School Principal Mary Smalling said of last year's exchange. "The visit gave our students a chance to see the positive side of a country that is typically only represented in a negative manner on the news. Two very different cultures came together to understand the similarities they have with each other. Each group was able to learn about each other so that stereotypes could be confirmed or rejected."
Reflecting on her experience in the U.S. last fall, Amina Nasir, a student at HITEC Girls School, said, "My visit to America was an awesome experience in my life. Before going there I used to think that Americans are very rude people, they don't like to talk to Pakistanis and they don't live (as part of) a family as we do. But when I met them and spent time with them, all of my stereotypes were vanished. Americans lived like families and treated us very well. When we were living with our host families, they took care of us like their own children."
"This program allows us to see the things that we have in common that can draw us together, instead of the things that are different, that draw us apart. When I reflect on this trip, I realize that I was given probably one of the greatest honors of my life," Stollings said. "I was given the chance to show the people of Pakistan that we were not what they had been taught and I was able to see that they were not what we had been taught to believe. Now, I have an obligation to share my experiences with those around me so they can learn from my personal experiences. This has changed my life."
Thumbnail: