Project summary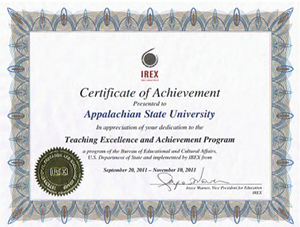 The Teaching Excellence and Achievement Program (TEA) was conducted in North Carolina for 22 TEA Fellows from September 23 – November 7, 2011. The TEA Fellows came from Argentina, Cambodia, Estonia, Guatemala, Jordan, Kyrgyzstan, Poland, Russia, Thailand, and Turkmenistan. The program involved university faculty from multiple fields and made optimal use of the university's strong partnership with local public schools in Alleghany, Ashe, Burke, Caldwell, Watauga, and Wilkes counties. The objectives of the program were to:
Enhance teachers' expertise in their teaching discipline and equip them with a deeper understanding of best practices in teaching methodologies, lesson planning, and the use of technology in teaching;
Create among TEA teachers a more nuanced understanding of the United States;
Develop productive and lasting relationships and mutual understanding between the TEA teachers and U.S. teachers and their students; and
Contribute to improving teaching in participating countries by preparing participants to serve as teacher leaders, who, upon returning home, will apply and share their experience and skills with their peers and students.
The TEA Program at Appalachian was conceptually divided into three main parts: (1) interactive seminars and workshops focused on student-centered learning; student assessment; lesson planning; teacher leadership; discipline-specific teaching methods, strategies, and trends in instruction; and interactive educational technology; (2) internships at five high schools; and (3) civic and cultural activities.
Seminars and Workshops
The TEA teachers spent a significant portion of their time on the Appalachian campus participating in various custom-tailored, interactive education workshops and seminars conducted by Appalachian faculty in the Reich College of Education. The topics for these workshops/seminars focused on the teaching of English as a foreign language, strategies and teaching methodologies, lesson planning, teacher leadership, and the use of computers for internet, word processing and as teaching tools.
Internships in Local Schools
During the internship phase, October 26 - November 2, 2011, TEA Fellows shadowed public school teachers at meetings, interacted with members of local school boards and parent-teacher-organizations, and participated in an experience of team-teaching with English teachers in the Alleghany, Ashe, Avery, Caldwell, Watauga, and Wilkes county high schools. The team teaching-internship experiences were practical and hands-on.
Forum with Appalachian Pre-Service Teachers
The TEA Fellows also met with Appalachian students from the College of Education who are preparing to become teachers in a very lively discussion. During this Forum, Appalachian students learned from the TEA Fellows about the education system as well as the current political developments in their respective home countries.
Civic, Social and Cultural Activities
TEA Fellows participated in several planned social and cultural activities during the training program. These activities facilitated and strengthened the establishment of mutual respect and long-term relationships with the U.S. Americans they interacted with. Social, cultural and civic life in the United States was experienced through welcome and farewell networking receptions, attending meetings of board of education and parent-teacher organizations, volunteering at the Hospitality House were they served hot meals to homeless persons, football games, homecoming activities at Appalachian, homestays with local families, Halloween activities, and shopping.
Note: All University Export Controls must be followed.
More information