Teaching Excellence and Achievement (TEA) Program (2012)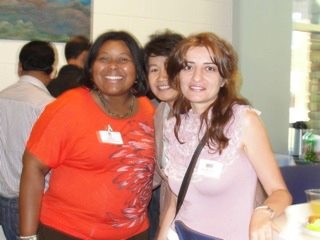 The Teaching Excellence & Achievement (TEA) Program is designed to enhance the capacity of 21 teachers representing 17 countries to teach English. TEA Fellows are from Armenia, Azerbaijan, Bangladesh, Cambodia, Colombia, Ecuador, Egypt, Haiti, Jordan, Kazakhstan, Kyrgyzstan, Morocco, Nicaragua, Panama, Thailand, Ukraine, and Uzbekistan. These teachers will develop their expertise in the teaching of English as a foreign language, enhance their teaching skills, and increase their knowledge of the United States while at Appalachian. The program started on September 18 in Washington, DC and will end on November 5 in Washington, DC.
The six-week long academic program at Appalachian will include intensive training in teaching methodologies, lesson planning, teaching strategies for your home environment, and teacher leadership, as well as integration of various types of information technology tools into teaching. The program will also include two weeks of field experiences that will allow TEA Fellows to engage actively with U.S. partner teachers and students at schools in Alleghany, Avery, Caldwell, Watauga, and Wilkes county school districts.
Appalachian is one of the four U.S. universities selected through a competitive process to implement the fall 2012 TEA program. Others include Claremont Graduate University, University of Nevada-Reno, and Utah State University. The TEA program is funded by the U.S. Department of State's Bureau of Educational and Cultural Affairs and administered by the International Research and Exchange Board (IREX) based in Washington, D.C.
Thumbnail: