2018 Global Leadership Awards Presented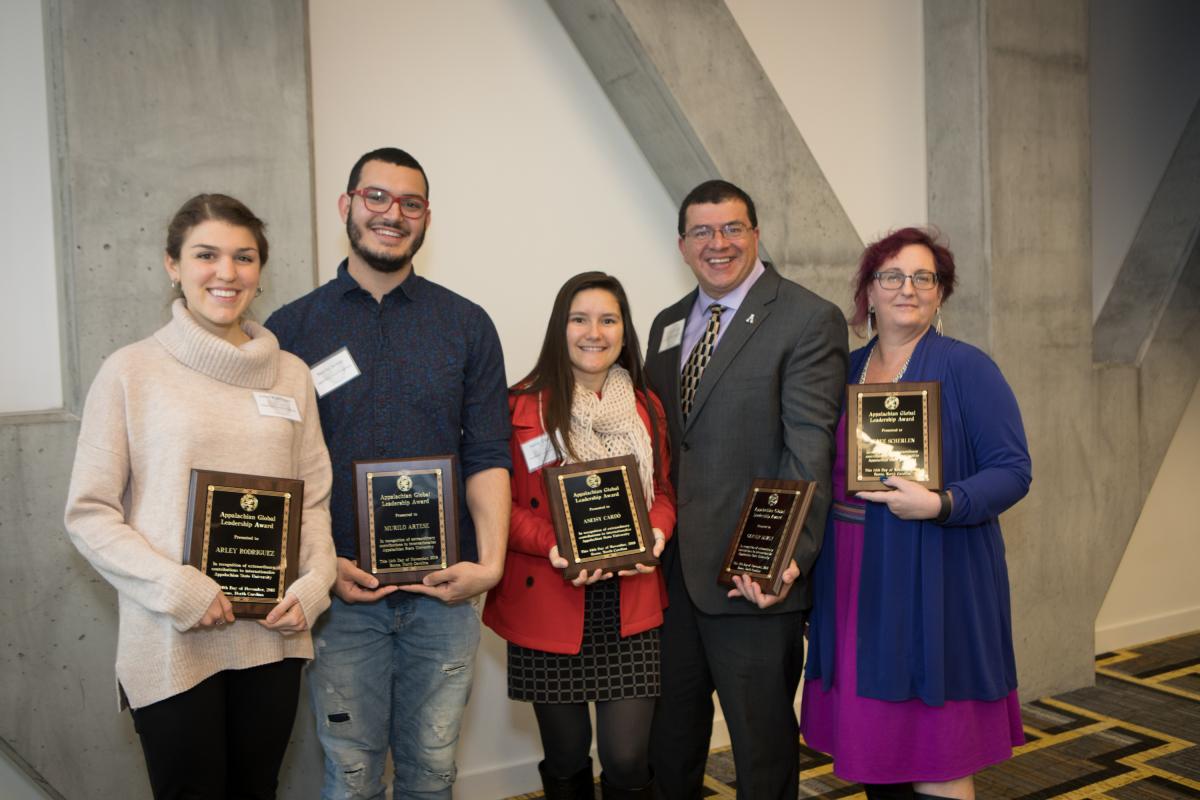 The seventh annual Appalachian Global Leadership Awards were presented to students faculty, and staff during the Global Leadership Awards luncheon, which took place on Wednesday, November 14th as part of the annual Appalachian Global Symposium. The awards recognize students, faculty, and staff who have made extraordinary contributions to global learning by initiating, developing, and/or supporting opportunities for global learning at Appalachian and in the community.
2018 Staff Award - Dr. Garner Dewey
The 2018 staff award was presented to Dr. Garner Dewey in recognition of his contributions to global learning at Appalachian. Dr. Dewey is Associate Dean for the College of Fine and Applied Arts and Director of the Quality Enhancement Plan. Dr. Dewey's leadership as the Director of Appalachian's Quality Enhancement Plan Global Learning: A World of Opportunities for Appalachian Students has resulted in innumerable accomplishments that have impacted faculty, staff, and students in many ways. The QEP transformed Appalachian's curriculum by supporting faculty innovation and defining assessment strategies for global learning. In addition to his work with the QEP, Dr. Dewey has led multiple education abroad programs for students to many countries over several years. Dr. Dewey's nominator wrote:
"No matter the context, he has worked with students, faculty and staff to anchor Appalachian State within the wider world--and bring the wider world to Appalachian. His contributions are exemplary."
2018 Faculty Award - Dr. Renee Scherlen
The 2018 faculty award was presented to Dr. Renee Scherlen. Dr. Scherlen is a faculty member in the Department of Government and Justice studies who has worked tirelessly throughout her 26 year career at Appalachian to serve faculty and students in support of the university's global mission. Dr. Scherlen has worked with administrators and faculty from departments as diverse as Appropriate Technology to International Business to develop and deepen relationships with existing and potential partner institutions in Cuba and Mexico. Her dedication to international understanding goes well beyond study and teaching abroad. She worked with Dr. Jesse Lutabingwa to develop the global learning QEP proposal to serve as a guiding framework for education at Appalachian. That QEP proposal was accepted, launched, and a council was formed to implement the plan. As the QEP nears its end, a new framework for supporting global education at Appalachian has been created: the Global Engagement Council. She serves as the co-chair of the Council, working to continue the process of expanding and deepening global education at Appalachian.
2018 Graduate Student Award - Aneisy Cardo
The 2018 graduate student award was presented to Aneisy Cardo, a graduate student working towards her MBA and MA in Higher Education at Appalachian. She also serves as Assistant Director of Admissions for Hispanic and International Recruitment here at Appalachian. In addition to working full time while pursuing two graduate degrees, she also served as a facilitator of Intersect, a Social Justice Retreat at Appalachian, a Program Assistant with Summer Ventures, Vice President of the National Latin Sorority, and is a Founding Member of Appalachianos, a Hispanic/Latino Faculty and Staff Association. Aneisy served as a member of the Chancellor's Student Advisory Board for Diversity Recruitment, was President of the Hispanic Student Association, and Secretary of iPals (International Pals), and LEAD Guide and mentor (Linking Education and Diversity) Orientation Program.
2018 Undergraduate Student Award - Murillo Artese
The 2018 undergraduate student award was presented to Murillo Artese. During his time at Appalachian, Murillo has distinguished himself as a leader among his peers and one who is capable of significant achievements that serve his fellow students and all members of the Appalachian community. Murillo has been heavily involved in the student organization International Appalachian, or INTAPP, and served as the organization's President in 2017 - 2018. The organization's success and the impact of his leadership was recognized by Student Affairs when he was given the 2017 - 2018 Student Organization President of the Year award. Murillo has served as Student Orientation Undergraduate Leader, or SOUL, as well as an Appalachian Student Ambassador. As such, he has been the face of Appalachian for countless new students, visitors and families. His commitment to giving back to Appalachian has given him the ability to serve as valuable ambassador of the power of global learning and Appalachian's commitment to creating engaged global citizens. In the words of his nominator:
"Murilo is a joy to be around. He is full of life, open, warm, friendly and considerate. Working with him is a delight because he works hard, inspires others, brings great ideas to the table, turns those ideas into reality, and makes the experience fun. Murilo has a significant positive impact wherever he is involved."
2018 Local to Global Award - Arley Rodriguez
2018 Local to Global Student award was presented to Arley Rodriguez. This award is intended to recognize a student who has engaged with our local community in an innovative way and is prepared to expand their work on a global level at an international location. Rodriguez is an Exercise Science major at Appalachian. She started an Appalachian Chapter of Global Medical Training, which has taken trips to underdeveloped countries to bring medical supplies, knowledge and volunteer help to interface with local people. Global Medical Training is an International Humanitarian Organization that provides free dental and medical services to poor communities in Central and South American countries. They train students to set up clinics in these communities. Students work with doctors in diagnosing, treating, and giving medication to patients. Through her mission of helping those less fortunate, Arley has captured the interest of many students who now donate time and effort to this organization. Arley also works locally, fundraising and volunteering for local causes such as: "Be The Change", which donated money to Watauga County Public Schools; filled stockings with toys to give to the Grandfather Home; acquired baskets with baby supplies to give to the Hope Pregnancy Center; gave outdoor equipment to Western Youth Network, baskets to Oasis Women's Shelter, and bicycles to a local nonprofit organization called Santa's Toy Box.