2013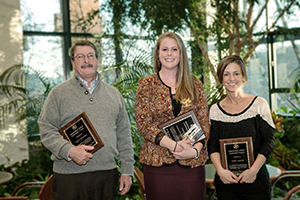 Three individuals from Appalachian State University have been recognized for their work to advance global learning. Receiving the 2013 Global Leadership Award are Jenny Koehn, Scott Meister and Madalyn Burns. The awards were presented Nov. 20 during a ceremony on campus.
Jenny Koehn
Koehn, associate director of student programs, was honored in the staff category. She planned and co-led Appalachian's first "international" Alternative Spring Break Trip to the Dominican Republic. Students on the 2005 trip spent their spring break providing 40 hours of service with a housing project. Now in its ninth year, the program is known as the International Alternative Service Experience program and encompasses an ever-expanding geographic and cultural footprint related to service-learning course offerings.
Koehn's pioneering and entrepreneurial spirit blazed a trail that has led to powerful cultural exchange and leadership experiences for Appalachian students. Forty-two trips and nearly 600 students later, lives have been touched and transformed, and service projects have occurred across the globe in locations such as: Ecuador, Costa Rica, Bolivia, Thailand, Egypt and the Czech Republic.
"Jenny would be the first to admit that the real success of this program is due to student involvement, and the impact upon these students has been profound," said award co-chair Professor Suzi Mills.
Appalachian senior and ACT service advisor Libba Moore spoke of her first international service experience. "My life was completely reinvented when I was exposed to the power of service and the importance of knowing the struggles of a particular community," she said. "Alternative Service Experience helped me discover the road I want to travel. I am now heavily involved with my community and feel very connected and interwoven into the problems and joys of Boone through my service work."
Scott Meister
Professor Scott Meister from the Hayes School of Music won in the award's faculty category.
In 1974, Meister began his research on ethnic percussion performance with the formation of the Mid-East Ensemble on campus, a student group that continues to study and perform with new members rotating in each year.
While he had led Appalachian music groups on international performance tours since 1976, Meister initiated specific study abroad programs in 2000 to research the performance practice of steel band music in Trinidad and Tobago. As a result, students were able to study and perform with some of the best local teachers and musicians in the Caribbean, and many have continued to study multi-ethnic percussion at the graduate level.
Meister created the Steely Pan Steel Band, an ensemble that has become a hallmark for the Hayes School of Music and one that has brought the music of the Caribbean to countless audiences throughout the region.
He has provided expert facilitation, teaching and mentoring throughout his years as a scholar and as the faculty director for the music school's Music in Ireland study abroad program. Meister is well-known for his strong belief in the powerful approach of "hands-on" performance as pedagogy for multi-ethnic music. Through his programs many Appalachian students have experienced firsthand cultures in which music making is elemental and integral to everyday life. These students have returned with significant knowledge of those cultures, as well as new musical abilities that they have shared with the Appalachian community.
Meister's compositions reflect his sustained scholarship and the integration of multiple ethnic styles of music, including Islamic modes and Arabic dance rhythms, as well as West Indian, African, Irish and Indian music. He served on an American Council of Education Task Force for a two-year study of internationalization on our campus.
"His compositions, his 29 international trips with students and his service represent the mosaic of an impressive career of this true global leader," Mills said.
Madalyn Burns
Junior social work major Madalyn Burns was recognized in the student category. Burns joined the Invisible Children's Club in Boone and become a passionate ambassador on campus for conflicts in central Africa. She is one of those students who approaches everything she does with passion and purpose.
Knowledgeable about geopolitical conflicts and vulnerable populations all around the world, she has focused her academic and personal efforts on central Africa and making those conflicts real to her fellow students.
Burns also is a student representative on the "Hope Grows" board of directors, working on programs to support coffee farmers in South Sudan. She worked closely with rural women and children in the Sudan, and mentors a child as a volunteer for the Western Youth Network in honor of the 13-year-old boy she sponsors in South Sudan.
Through her work with international causes, she also has become determined to create change both at Appalachian, in Boone, as well as in South Sudan.
"She is very deserving of this recognition for her tireless efforts to connect our students and community to the lives of those in the South Sudan," Mills said.
The Global Leadership Awards Program is an annual award that recognizes students, faculty and staff who have made a significant contribution to advance global learning at Appalachian.The awards are presented at the conclusion of the Appalachian Global Symposium, a week of activities focusing on the international activities of faculty, staff and students.
Global Leadership Awards Committee Members (2013)
The following Appalachian faculty and staff members compose the Appalachian Global Leadership Awards committee for 2013...
Suzi Mills (co-chair)
Richard Campbell (co-chair)
Mechthild Marck-Kennedy
Cathy Ziegler
Allan Scherlen
Diane Mines
Linda Johanson
Joseph Cazier
Melanie Greene
Teri Reddick
Above Photo - Left to right: Professor Scott Meister, left, Madalyn Burns and Jenny Koehn received the 2013 Global Leadership Award presented at Appalachian State University. (Photo by Marie Freeman)