2012 Appalachian Global Leadership Awards recipients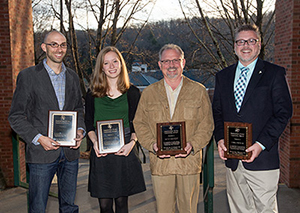 Fostering global awareness can be as simple as providing needed kitchen items for international students or as complex as curating international art exhibits or developing a high school German program.
Four individuals from Appalachian State University were recognized for these and other efforts to enhance global learning at the university.
The inaugural Appalachian Global Leadership Award was presented to Professor Kevin Kennedy from the Department of Languages, Literatures and Cultures, Hank Foreman, associate vice chancellor for communications and cultural affairs, undergraduate Beatrice "Bess" Smith and graduate student Jesse Pipes. The award is sponsored by the Office of International Education and Development.
The award presentation on November 16, 2012 culminated the Appalachian Global Symposium, a week of activities focusing on the international activities of faculty, staff, and students.
Dr. Kevin Kennedy
Professor, Department of Languages, Literatures & Cultures
Kennedy, a professor of German, is known on campus for study abroad and student exchange programs. His former students reported that Kennedy had inspired them in many ways. One became a Fulbright teaching assistant, another pursued graduate studies in German and another prepared to live abroad after graduating.
He facilitated an exchange program between Appalachian and the University of Education in Karlsruhe, Germany, and he started the German program at Watauga High School.
Hank Foreman
Associate Vice Chancellor for Communications and Cultural Affairs
Foreman, who also is director of the Turchin Center for the Visual Arts on campus, develops programs that provide co-curricular experiences for university students as a means of enhancing classroom learning opportunities with global perspective. Exhibits at the gallery have provided cultural insights into China, Mexico, Poland, the Balkan Peninsula, New Zealand, Canada, Brazil, Costa Rica, Japan and Italy.
"His global leadership is marked by engaging with artists, art and culture bearers, both here locally and throughout the world," awards committee co-chair Dr. Suzi Mills said. "Through his role as the Turchin Center's director and chief curator, Mr. Foreman fosters opportunities with international visiting artists and curators and celebrations that are fun and accessible interactions with art and artists."
Beatrice "Bess" Smith
Student, Biology
Bess Smith, an undergraduate biology major, began an initiative called the Kitchen Box Program to make the transition to campus easier for international students. Smith collects utensils and other kitchen essentials to help international students set up their home when they come to Appalachian.
"It is efforts like this that really show a welcoming environment to our international guests that is second to none," said awards committee co-chair Rich Campbell.
Jesse Pipes
Graduate Student, Business Administration
Jesse Pipes, a graduate student in business administration, founded and directs the international non-profit organization World Camp Inc., a community development program created to empower "social capital" through education. World Camp works in rural schools and street shelters in Malawi teaching children about challenging issues that affect their future and communities, including HIV/AIDS prevention, nutrition, gender equality, environmental awareness and human rights.
One of Pipes' nominators said, "He is a creative young man who is demonstrating that new models of community development can make a huge impact to local communities."
"We hope these awards will become part of a new tradition at Appalachian where faculty, staff and students share the global activities they are engaged in on and off campus," said Dr. Jesse Lutabingwa, association vice chancellor for international programs. "I want to thank these awardees for the wonderful work that they do to enhance the work of internationalizing this campus."
Global Leadership Awards Committee Members (2012)
The following Appalachian faculty and staff members compose the Appalachian Global Leadership Awards committee for 2012...
Suzi Mills (co-chair)
Richard Campbell (co-chair)
Mechthild Marck-Kennedy
Lynn Gregory
Cathy Ziegler
Allan Scherlen
Diane Mines
Linda Johanson
Joseph Cazier
Melanie Greene
Above Photo - Left to right: Jesse Pipes, left, Beatrice Smith, Kevin Kennedy and Hank Foreman are the first recipients of the Appalachian Global Leadership Award, presented by the Office of International Education and Development at Appalachian State University in 2012. (Appalachian photo by Marie Freeman)